---
The Sims 3 Build and Edit Guide
List of Building and Editing Tutorials to Improve Houses, Towns and Lots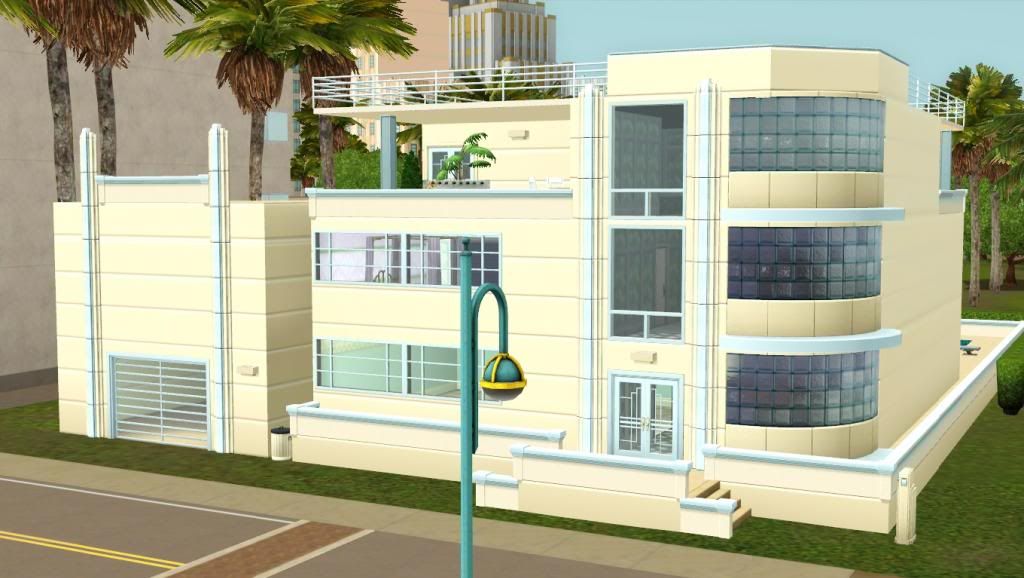 The Roaring Modern Mansion, a beautiful home by Gogowars on our Forum.
First, I want to say that none of the building guides on this site were written by me. If you want support from a good builder, you might try asking your question at our community. That said, these were all created by bright members there. I won't list who did what here on the index, but rest assured all builders get proper credit. These are people capable of making beautiful houses and towns, and I am thrilled to offer them a place to share these building skills.
The list of tutorials will go by list of how important I feel they are. The first are most obvious, learning to edit and build, period.
Beginner Home Building
The original guide that started this section, made by master builder TommyT who went to serve his country in the U.S. Coast Guard. Perhaps we should call this 'stop being a beginner' because when you read the simple tips in this guide, your homes will start to look more realistic. Practice and refine, and you'll eventually move up to intermediate!
Intermediate Design: Rooms
This Guide focuses on intermediate design. Those polishes you can put on a home to make it look expensive. Loads of room ideas are given to help you come up with your Sim's next money sink. Never know though, a home redesign could help your efficiency!
Edit Town
Learn about the various controls at your disposal in The Sims 3's Edit Town mode. You'll learn about lot types, the world editor, and placing lots. There is also an excellent visual representation of the edit mode interface.
Edit Town Part 2: Lots
This page focuses more on lots than the last. You will learn of all the various types of lot you can place in your neighborhood. You'll also find tips to modifying the community lots to suit your style.
Multiple Floor Homes and Basements
A great tutorial covering everything you need to know to make a multiple-story home in The Sims 3. Learn about friezes, foundations and advanced building techniques to make your home as beautiful and functional as possible.
Pools
Learn to make a basic pool, and when you've refined your skills create a more advanced Infinity Pool. Mastery of your skills as a pool builder will be put to the test with the Multi-Level Infinity Pool.
Roofs
This handy article teaches you to make any house look better by giving it a non-default roof. The auto roof function is horrible. Tame it, and make the top end of your house as beautiful as the bottom. This guide is in three parts, so goes over everything you need to know about roofs!
Stairs
This detailed tutorial teaches you everything you need to know about staircases and elevators in The Sims 3. Learn advanced techniques to make grand staircases, L-shaped stairs and square spiral staircases and more.
Slope Building
To make some unique land for your home, know that it is possible to build on a slope. Read this tutorial to find out how to make homes that nest atop slopes.
How to Move
Packing up, taking some of the house or all of it, this article will teach you about moving to another house, or moving your existing house.
Switching Neighborhoods
This Simple article will teach you how to perform the processes to move from one neighborhood in Sims 3 to another. Follow the step-by-step instructions and you should be fine!
Commentics
Comments are Disabled
Jump to Top
Disclaimer: - This site is not endorsed by or affiliated with Electronic Arts, or its licensors. Trademarks are the property of their respective owners. The Sims and The Sims 3 Logo are trademarks of Electronic Arts, Inc. Game content and materials copyright Electronic Arts Inc. and its licensors. All Rights Reserved. All original material on this site © Carl Ratcliff.